NOTE: Want to attract more women? Then you need to WATCH THIS VIDEO. It shows you how you can sleep with 6+ girls a week using stealth seduction methods.
Did you know that you can engineer your looks in such a way that you can actually appear better looking than you are?
Let's face it, women do this all the time.
They use fake eyelashes, fake tan, hair extensions, acrylic nails, high heels, flattering underwear, lipstick, mascara, eye shadow, foundation… etc etc.
It's no wonder they look great after all that!
But what about us guys?
We don't wear makeup or have magic knickers that suck us in and prop us up, so how can we make ourselves look better without going nuts or turning into a drag queen?
Well I'm glad you asked… because today I'm going to reveal some fashion tips for men that will take you from a frumpy looking geek with a greasy face, to a stylish and dapper dandy who would give Don Draper a run for his money.
Below are my fashion secrets of the most basic form, but don't let the word "basic" put you off.
If you read and apply everything I've written below, I promise you'll get more attention from women than you ever did before. Why? Because attractive men do this and that's what women appreciate these days.
Right then, let's get onto the good stuff.
The basics of men's fashion
Understanding how to style oneself is a skill, you need an eye for detail, shapes and colours. However you can just stick to the basics and still look damn good, here they are…
Buy clothes that match your skin tone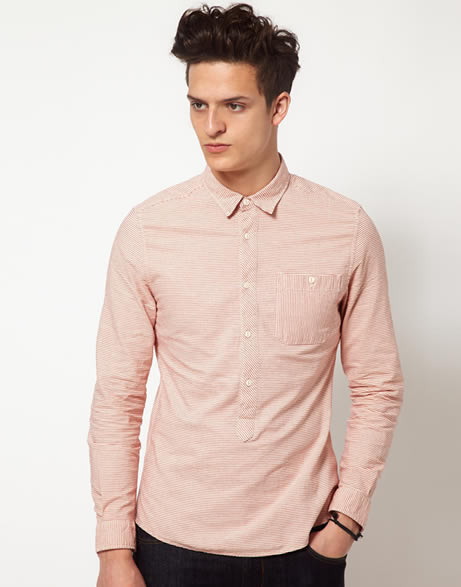 Some guys wear clothes that reflect their personality, which is fine, but if that ever conflicts with your skin tone and comprises the impression you give off as a result… it's time to ditch those clothes.
So you need to find a perfect balance between clothes that compliment your skin tone and express you as a person.
Here's how:
Pale white skin – You need to wear more brown, creams and olive colours.
Olive skin – You need to wear more blues, blacks and brown colours.
Darker skin – You need to wear more blacks, whites and brighter tones.
Quick tip: Wearing a top that matches your eyes, is a great way of colour coordinating which women pay very close attention to. Blue eyes? Wear a blue top, you get the idea.
Always opt for slim fitting, not baggy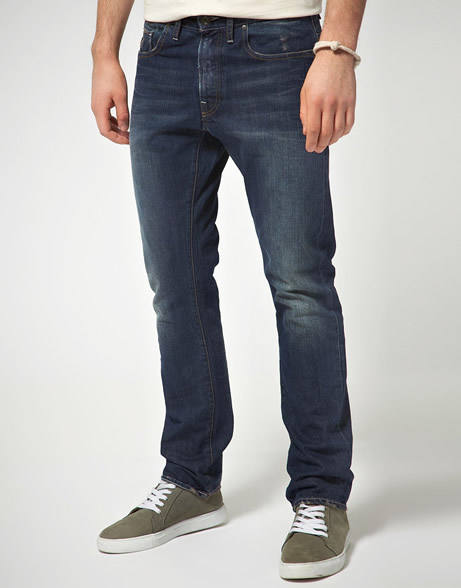 It's not the 1990's anymore dude, so you need to sling out the baggy ill fitting clothes and swap them for a more fitting style. Everything from jeans, t-shirts, formal shirts, jackets… they all need to be slim fitting from now on.
By wearing slim fitting garments you will look a lot smarter, slimmer and stylish. Please don't get "skinny confused with the word "slim". If you're similar to Russell Brand, then you can easily pull off the skinny look, but for the rest of us… just stick to the fitted look.
Get contacts and trendy glasses (if you need them)

If you're unfortunate enough to be blessed with terrible eyesight, it's time to get some contacts and throw out the milk bottle style specs. Go into your opticians and pick out 2 to 3 pairs of glasses that 1) suit your face and 2) match your skin tone.
Some awesome styles of specs are:
Grab the essential items
With men's fashion, you're looking at around 10 to 15 items of clothing that set the tone for the rest of the outfit. Meaning these items of clothing go with everything, so you don't need to spend thousands on new clothes all the time.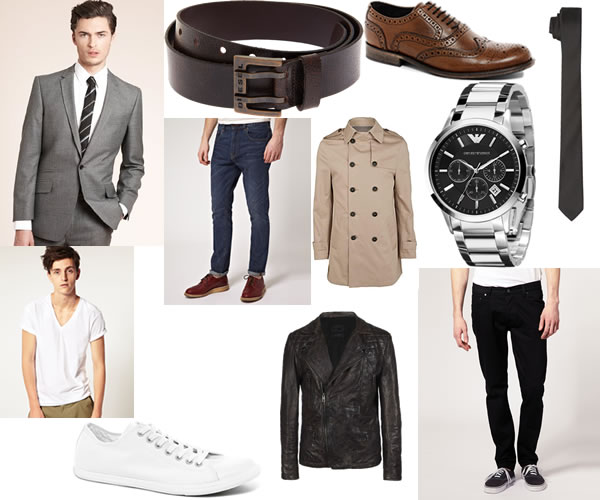 Here they are:
Slim fitting grey suit – Can be worn to interviews, weddings and the jacket can be worn with jeans for a smart casual look.
Skinny black tie – Great with a suit and the smart casual look.
Dark brown belt – Goes with trousers, jeans and smart shorts.
Dark brown brogues – Perfect for any occasion, from the office to the bar.
White trainers – For the casual look.
Slim fitting black jeans – For smart casual and casual look.
Slim fitting dark blue jeans – For smart casual and casual look.
Slim fitting grey, white and black v-neck t-shirt – Go with anything, a must for any wardrobe.
Classic watch – Silver, with a medium face… perfect for a subtle but dapper appearance.
Mac jacket – Formal and casual.
Leather jacket – Damn cool, for the casual and smart casual look.
Play around with styles and colours
One last thing to touch on with men's fashion and your style. Don't be afraid to give new styles, colours and outfits a try. You might be surprised at what works.
Men's grooming essentials
Aside from the threads, you need to make sure your appearance is up to scratch by following a few simple grooming tips.
Change your hairstyle
Hair is very important, it always has been and plays a vital part in any style. The best thing to do is to flick through some trendy hairstyles you like the look of and take it to a hair stylist (NOT a barbers).
A stylist will be a little more expensive but will have the eye and experience for cutting your hair and making it look awesome, basically matching the best style with the shape of your face.
Whiten your teeth
Nobody likes to look at a horrible set of teeth. Even if they are wonky, you can still do something about the colour of them.
For quick results, you should get the one hour zoom whitening at a decent dentist, followed by using teeth whitening gel and trays every night for a couple of weeks.
Quick tip: Book an appointment with a hygienist first to get rid of any discoloration. They will immediately look brighter and whiter after this, even before you get them whitened.
Take care of your skin
If you suffer from acne or spots, do whatever you can to treat your skin. It's so nasty when you're speaking to someone who has dry, flaky and spotty skin.
Here's some things you can do:
Wash your face daily with facial scrub
Clean your face with facial cleanser
Tone your skin with facial toner
Moisturise your face with facial moisturiser
Trim your body hair
If you look like a wookie, it's time to shave your body hair. Some guys prefer trimming so they have a little hair, whilst others prefer the smooth look. Try both and see what works with your body.
Grab a body trimmer and then try something like veet which will remove all traces of hair.
Clip your nails
Clean and cut your nails regularly, you should know this already but a surprising number of guys don't bother with their nails because they think it's girly.
Get a tan
If you're pasty, you might want to inject a little colour into your body by going for a sunbed or even a spray tan if you're brave.
Conclusion
So that's it dude! If you do everything that I've suggested above, you'll see a massive difference in the reaction you get from girls.
But listen, dressing the part is good. Really good. But it's not the only thing you need to be one of the greatest womanizers ever. It's confidence, game, being a gentleman and understanding your role as a man.
One thing I forgot to mention is that fixing your fashion can actually be a really great confidence boost and help to reduce anxiety and depression, so don't take these tips lightly.
---
You should also read: