Joy Love Dolls is a relative newcomer to the sex doll scene, and they've wasted no time taking the adult toy industry by storm. They offer a wide selection of dolls to fit every taste, all at very competitive prices. In this review, we'll take a look at Joy Love Doll's selection and purchase experience to help you decide if they are the right sex doll supplier for you.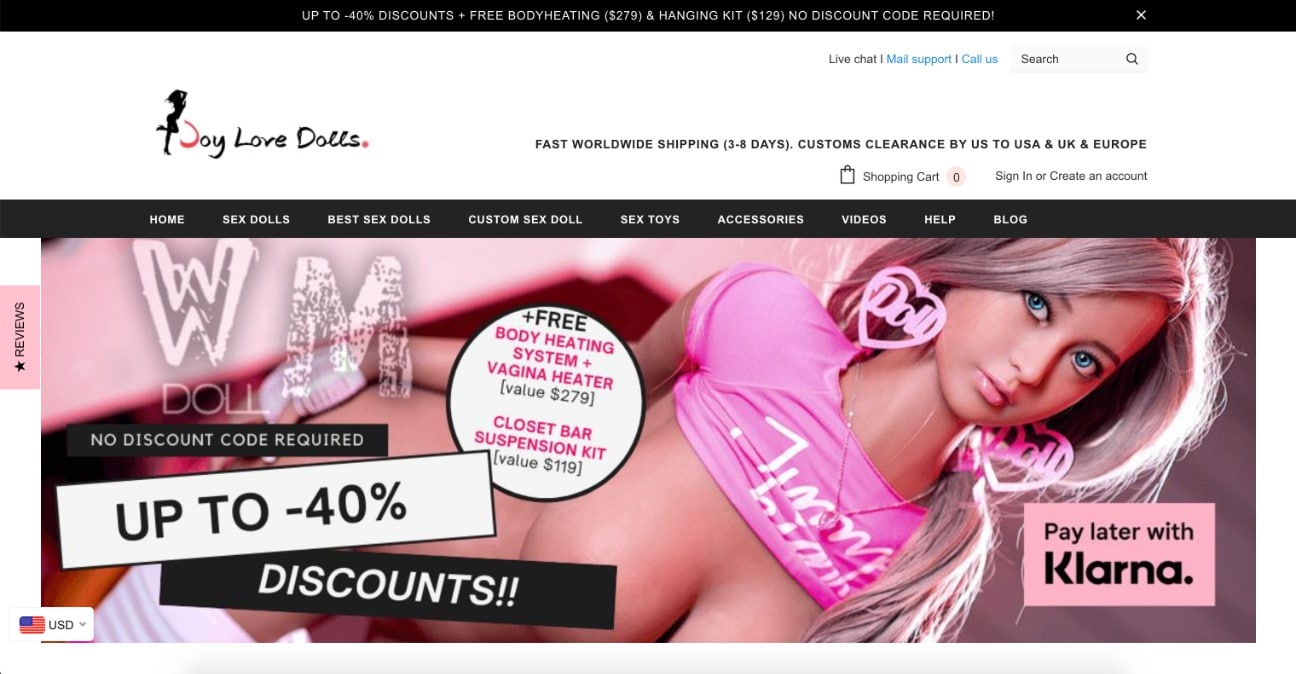 My In-Depth Joy Love Dolls Review
When looking for a luxury sex doll, you can be faced with a lot of tough choices, especially if you're on a budget. It can be hard to know if you're getting a quality doll, and if you're shopping for bargains, you need to be doubly cautious.
Some manufacturers and resellers try to get away with selling second-rate products for top-dollar. Luckily, there are doll retailers who sell top-notch products at affordable prices, and that's where Joy Love Dolls really shines.
Hundreds of dolls to choose from
Joy Love Dolls feature over five hundred dolls on their website, offering a wide variety of models to choose from. Even with all those options, they limit their offerings to two top-tier manufacturers, as well as their own house brand. Because they focus on dealing with the best artists and manufacturers in the industry, they are able to offer high-quality dolls at discount prices.
You'll also enjoy a higher level of customization from Joy Love Dolls than other online stores. Let your imagination run wild as you browse a voluminous menu of add-ons and advanced features.
Custom dolls built to your specification
Also, be sure to check out the custom doll category. Once there, you can choose from over three hundred body types and forty different heads to create your ultimate playmate.
Finally, Joy Love Dolls offers a wide selection of products on their website, not just dolls. In addition to sex dolls and accessories, Joy Love Dolls offers toys to fit every budget. Offering a wide range of fleshlights, vibrating wands, and other accessories, Joy Love Dolls can meet all your erotic playtime needs.
Features
Let's take a look at some of my favorite features from this top-notch company.
Value
You will be hard-pressed to find a better value in a premium sex doll. We've found other sex doll providers selling the same dolls for a higher price, all without offering the same level of customization you find at Joy Love. In addition to the low prices, you also receive free gifts to help you store and care for your doll. And although it's not immediately visible on their website, all orders ship free in the continental United States. If you're looking for the best prices with enhanced customization, Joy Love Dolls is the place for you.
Brands
Joy Love Dolls offers dolls by WM Dolls and YL Dolls, two of the business's best manufacturers. They also feature their house brand, which offers ultra-realistic TPE dolls of amazing quality. Since these manufacturers are the best sex doll makers in the business, you won't be in danger of getting lost in a maze of off-brand dolls. Whichever brand you choose, you can be assured of a great-looking, great-feeling product.
Selection
Even though Joy Love limits brands they carry, you'll find their selection to be second to none. If you're looking for a niche doll, such as anime or fantasy dolls, you're sure to find exactly the doll you want. There are over 500 dolls to choose from, better than any site we've reviewed so far.
Materials
Joy Love Dolls only sells realistic sex dolls for men, produced with the highest-quality materials. The overwhelming majority of the dolls are ultra-realistic thermoplastic elastomers or TPE. This material is the gold standard, giving you the best feeling, best-looking doll possible. If you prefer silicone, there are several options available to you, all offered by WM Dolls.
If this is your first doll, we would highly recommend sticking with TPE. You'll enjoy a wider selection encompassing all three manufactures and a more pleasurable sensation when using your doll.
Customization Options
After finding the model that appeals to you most, you'll enjoy best-in-class customization. With a few clicks, you'll be able to choose from the following options:
Body type, including height and breast size.
Skin tone, from fair to ebony.
Body temperature, including vaginal heaters.
Multiple voice options.
Regular or EVO skeletons.
Up to fifteen different hairstyles.
Solid or natural breasts.
Seven different vaginas, from built in to removable.
Four styles of pubic hair.
Standard or upgraded mouth.
Up to seven different eye colors.
As you can see, Joy Love Dolls offers a variety of customization that is hard to find from other doll providers. This doll provider is proof that you can get all the features you want and still not break the bank.
Galleries
Joy Love Dolls offers some stunning galleries featuring some exciting, high-quality photos. However, the layout isn't the best we've seen, using a sliding panel that only displays five images per pane.
We would prefer to see a thumbnail gallery that allows us to view all photos at once. With dozens of images for some models, it can take a bit of time to work through them all. The gallery is still very functional; you just need to take some time to work through the images.
Reseller Photos Versus Factory Photos
Most sex doll providers lean heavily on factory photos to sell their products. These photos are very well done, including props, stage lighting, and outfits that won't come with your doll. With this in mind, Joy Love has a whole section of their website dedicated to real, unretouched photos of their product. While the gallery doesn't offer photos for every doll, it will allow consumers to get a realistic expectation of what they'll receive.
If you want to check out some of the optional features, like enhanced mouths, this gallery is a great place to look.
Joy Love Dolls has an extensive selection at great prices, but unfortunately, site navigation is one area where they struggle. If you are specifically looking for silicone dolls, you'll also find TPE dolls in the same category. Likewise, if you shop by brand, you'll find that YL dolls show up in the WM doll category.
Knowing this in advance makes it less of an annoyance. Just read the doll description carefully when browsing categories to make sure you purchase the brand and material you want and be prepared to scroll through some white-skinned blondies in the ebony section.
We found that using the search bar on the site was the best way to get us to the specific dolls we were most interested in.
Pros (What I Like)
Price, Price, Price – You get a premium doll at an affordable price, free shipping, and some free gifts that will help you get maximum enjoyment out of your doll.
Selection – With over five hundred dolls to choose from, you're sure to find the perfect doll.
Customization – Joy Love Dolls offers extensive customization options, all geared to getting you that unique look and feel you've been looking for.
Reseller Versus Factory Photos – Get a candid view of products without props and retouching.
Cons (What I Don't Like)
Gallery – The galleries feature great photos but use a sliding interface rather than thumbnails. Searching for the most interesting photos of your prospective playmate a bit tedious using this layout.
Site Navigation – The organization of categories seems a bit jumbled. They'll get you many relevant hits, but you'll also be scrolling through irrelevant products in the wrong category.
Most Common Questions
We've covered a lot in this article, but here are some questions people frequently ask.
What are my payment options?
Joy Love Dolls takes a variety of payment options, including all major credit cards. Joy Love also utilizes Klarna to provide installment plans, and terms range from six to thirty-six months, depending on the amount. Of course, Joy Love Dolls also accepts PayPal, and if your bitcoin account has been growing, they have an option for that too.
How long will it take to receive my doll?
Building dolls to order takes time, so expect the process to take up to fifteen days. Products like vibrators and fleshlights should arrive in under ten days.
What if there's a problem with my order?
All dolls are hand-inspected and photographed before shipping. If there is a problem with your doll when it arrives, Joy Love Dolls will make it right, provided you send documentation of the damage within twenty-four hours. Of course, there are no returns on used dolls.
Since all dolls are built-to-order, you'll want to take special care to select precisely the features you want before you buy. You can change your order within twenty-four hours of placing it, but you will be subject to a $120 change order fee.
Final Thoughts
Joy Love Dolls offers a great selection of premium dolls at an affordable price. The customization options you find on their website are some of the most in-depth we've seen, even when comparing them to higher-priced competitors. With free shipping and free accessories like cleaning kits and doll hangers, you're sure to get an excellent value for your money.
If you decide sex dolls aren't your thing, don't hesitate to check out our dating tips to land the girl of your dreams.
Other reviews you might like: