Since its inception, Abyss Creations has marketed its RealDoll as the most realistic and high-quality sex doll available for purchase. Crafted by hand from lifelike silicone, the dolls feature astonishing detail and endless options for customization, giving the buyer the closest thing possible to a real woman – if he's willing to cough up a few thousand dollars, that is.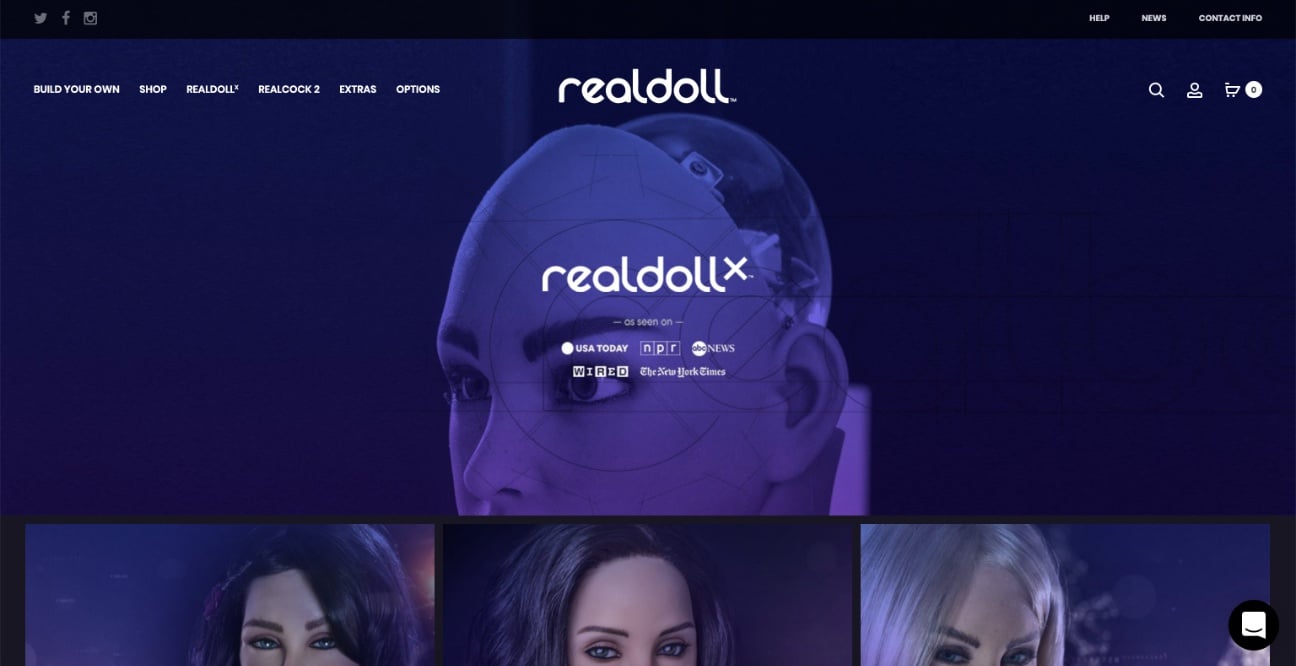 But are RealDolls worth the hype and the hefty price tag? We decided to conduct a thorough review to answer just that question.
The Basics: What Does RealDoll Offer?
The basic RealDoll product is a life-size silicone doll. It has an entirely articulated skeleton with stainless steel joints. Every aspect of the doll is designed to be as realistic as possible, with hundreds of customization options. You can choose one of the company's preconfigured dolls or completely start a custom design from scratch.
Several variations of the RealDoll are also available, including male dolls, petite dolls, and Wicked RealDolls, which are dolls designed to look like famous porn stars.
You can also purchase a Classic, or "retired," RealDoll, which is the company's older model of the doll. The Classic RealDoll is less expensive than the standard RealDoll, but is heavier, uses less advanced materials, and doesn't have nearly as many customization options.
Finally, RealDoll has launched a brand-new technology called RealDollX, which is an AI system that controls a robotic doll head, allowing your doll to change expressions, blink, nod, and even speak to you.
Features
Below are some of the main features of the RealDoll that makes it stand out.
Customization Options
One of the biggest selling points for RealDoll is that it has endless opportunities for customization.
When you order a RealDoll, you will get to choose the doll's body type (18 female body options range from 4'10" to 5'10" and from about 60 to 105 pounds, with varying degrees of curves), skin tone, face, makeup, eye color, hair color and style, breast and nipple size, and more.
The folks at Abyss Creations are true artists (they honestly make some of the best sex dolls for men), and they are no strangers to custom orders and requests. You can even send in pictures of the makeup and hairstyles that you want your doll to have. Just be aware that the more customization you choose, the more you'll pay for the doll in the end.
Other unique customization options for your RealDoll include transgender body parts (for instance, putting a penis on a female doll) and fantasy features like elf ears and fangs.
Face X System
All RealDolls use Abyss Creations' Face X technology, which means that all its female dolls' faces are interchangeable, like masks. With this magnetic technology, you can swap out your doll's face for a new one without needing to spend thousands of dollars on an entirely new doll.
In addition to the Face X System, RealDolls all have interchangeable eyes and wigs.
Removable Inserts
RealDolls have removable inserts available for their oral and vaginal cavities. These inserts are beneficial because they increase hygiene, make cleaning and maintenance easy, and provide even more customization options. There are 11 different available vaginal inserts, each with a different labia.
Shipping Review
When it's time to ship your sex doll to your home, discretion is critical — after all, this isn't necessarily a purchase you want all your neighbors to know about. Luckily, your RealDoll will arrive in an unassuming, unmarked wooden crate, with no outward hint as to what is inside. However, the crate weighs around 200 pounds, so you may need to enlist some help in getting it inside your home.
The crate is secured with screws, so you'll need a screwdriver to open it. The doll itself is nestled in plastic and foam padding for ultimate protection and even arrives with a handy wall mount for easy storage.
Performance Review
Of course, the most critical question about the RealDoll is if it serves its primary purpose well — it doesn't matter how good it looks if it doesn't feel great. Luckily, the RealDoll goes above and beyond in that regard and is genuinely the closest thing you'll find to having sex with a real human being.
The RealDoll's lips are made of stretchy silicone that naturally moves when kissing, and the hinged jaw opens realistically. The inside of the mouth is ribbed for extra pleasure, and, as we said above, there are several oral inserts available, including one specifically designed for deep throating.
A realistic feel or not?
A common concern with sex dolls is whether the breasts will seem realistic. The RealDoll's breasts can be a bit stiff at first, but they soften over time, and they bounce just like the real thing. The nipples are designed to appear erect and can withstand a considerable amount of biting and tugging.
Additionally, the high-quality silicone used for the doll's skin is incredibly soft and hyper-realistic. It has the "give" of real skin and jiggles when you move it around. The skin may feel a bit tacky at first, but this will go away with use, and you can use baby powder to combat it in the meantime.
The RealDoll's vaginal and anal cavities create a vacuum upon penetration, causing an amazingly pleasurable suction effect. The vagina is smooth upon entering, and the inserts we mentioned before give you a variety of options for pleasure.
Stronger than you'd imagine
Finally, the RealDoll is equipped with strong stainless steel joints and has an Olympic gymnast's flexibility. Although the dolls weigh between 60 and 105 pounds, they can support up to 400 pounds. With that strength and freedom of movement, you can use your doll in any position imaginable, from good old missionary to reverse cowgirl to those seemingly impossible contortions you see in Cosmopolitan.
To sum up: the RealDoll not only looks great, but it feels fantastic, too, and is more than up to the task of fulfilling any of your wildest fantasies.
Cons (The Not So Great)
So, as we've seen, with the RealDoll, you have an entirely customizable sex doll that looks eerily similar to a real human and gives an incredibly pleasurable experience. Where's the catch?
Well, the obvious answer is the price. The starting price for a preconfigured RealDoll is just shy of $6,000, and any changes or customizations you want to make will cost you extra. The Classic RealDoll will save you an extra $2,000, but you won't get all the features that make the current model of the RealDoll so unique. And that AI robot doll technology we mentioned before? Just the head will cost you $10,000.
In addition to the hefty price tag, RealDolls aren't equipped with any electronic or vibrating elements, which some buyers look for. However, you can use any vibrator or sex toy with your RealDoll to get that effect.
Pros (The Great)
Aside from the price, pretty much all of the aspects of the RealDoll that we've discussed are pros, with the most significant selling points being high-quality materials, endless customization options, secure and discreet shipping, and unmatched performance.
Additionally, the customer service team at Abyss Creations is top-notch. There are always agents available online to answer any questions you may have, and while you can't send your doll back to the factory for returns or repairs, the team will send you replacement parts and detailed instructions on how to mend your doll should it break.
Overall, we think that the pros of the RealDoll more than outweigh the cons, as long as you're willing and able to pay for one.
Why are RealDolls so expensive?
RealDolls are made with extremely high-quality materials — the silicone used for their skin is the same grade used in high-budget Hollywood special effects. Additionally, each doll is individually handcrafted, so no two dolls are exactly alike, even if you choose one of the preconfigured options with no further customization.
Is there a payment plan available?
There's no financing option available for RealDolls; however, you can pay in installments if you'd like (the minimum down payment is $1,500). The artists won't begin manufacturing your doll until you pay for it in full, so if you choose to pay in installments, it will take longer for you to get your hands on your doll.
Is silicone harmful at all? Does it smell?
The silicone used to make RealDolls is completely non-toxic and doesn't have a particular odor or taste. You may notice a bit of a scent when you first unpack your doll, but it's not an unpleasant smell, and it will go away with time.
Can I get a RealDoll that looks like a celebrity or someone I know?
Legally, the team at Abyss Creations cannot make a doll that's an exact match for a real person without their explicit consent. But, you can send them a picture of the person you want your doll to look like, and the artists will select features that are similar enough to be effective!
Conclusion: Should you get one?
If you're looking for the highest quality sex doll available, rather than just another toy, look no further than the RealDoll. It's not cheap, but you won't find another sex doll that matches the RealDoll's looks, performance, and ingenious creators.
Other reviews you might like: