Ok so you want to know how and what to text a girl right?
Not a problem. I've had years of experience in this area and have been able to get a number from a girl in the street… text her that day and arrange to meet with her that very same night.
Yep, I know exactly what I'm doing.
Today I'm going to show you the exact same techniques I use to get girls turned on, interested, eager to text back and begging to meet with you… all with my proven text message formula.
But before I do, I want to show you how I went from having ok text game to mastery level text game, this is what I used to do that…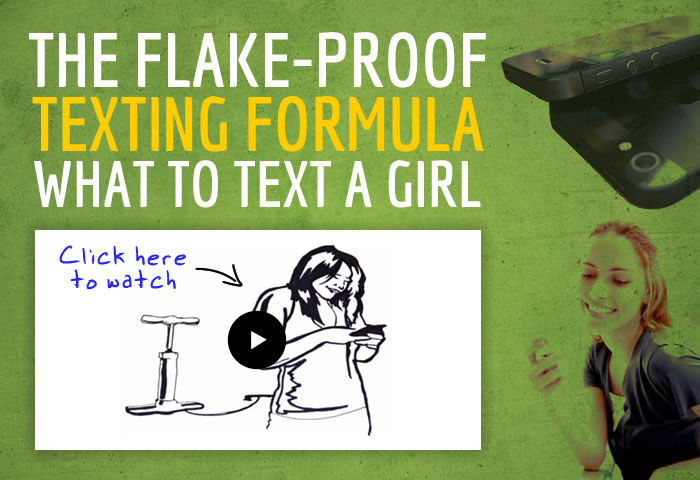 Most guys have absolutely no clue what to text girls.
They use the same old lines and predictable questions that every other sad and pathetic guy uses.
But it's not their fault, they just haven't taken the time to see what really works in the real world… so instead follow a pattern the inevitably leads the girls to being bored and not willing to meet with you.
What NOT to text a girl
If you say the wrong thing to a girl in a text message, she'll usually respond with the following stock messages (if she responds at all):
"Hey, I'm not actually looking for anything serious right now, so just wanted to let you know :) x"
"Listen, it was nice meeting you but I'm currently seeing someone right now"
"I'm really busy with work and stuff at the minute so can't really get into anything with a guy"
So now we have the stock messages out of the way, here's what you shouldn't be sending her…
"Hey cutie… Wow, hard day in the office. How's things with you?"
"Hi Sarah, was nice meeting you today. Are you around this evening for a drink?"
"Hey, really enjoyed talking to you last night. Want to meet up this weekend?"
"Yo, was just thinking about you… are you cool?"
See how boring these messages are? It's like you're texting your sister, there's no sexual vibe or cheekiness going on. So she's not going to want to text you back.
Oh, something important to add. I get guys asking me things like "what are some sweet things to say to my girlfriend?". I always give them a list of things NOT to say.
How to tell if she's not interested
For some annoying reason, men are STUPID at reading signs when it comes to women. Both in person and over text messages. Here's how to tell if the girl is not into you, which leaves you with two options… 1) you can leave it and go to the next girl or 2) you can use my formula below to re-ignite a fire under her ass!
1. She responds with 1 liners like "Yeah thanks…"
2. She doesn't text you first
3. She takes quite a while to respond, to every single text
4. She doesn't respond at all! (OBVIOUS ONE HERE DUDE!)
What to text a girl (My magic formula)
Ok, so you know what not to say and you also know how to tell if she's not into you… now I want to show you the secret sauce. The formula I use to get girls turned on and begging me to meet them incredibly fast, all from the first text.
Are you ready?
Cool. Let's get stuck in then.
QUICK NOTE: Although this formula works… it's not guaranteed, but nothing ever is. However if you want to become a black belt ninja at text game… you should watch this video.
Step 1: Open with a funny intriguing message to hook her
You need to grab her attention, make her smile or laugh and make her want to text you back. The funny opener should always be the first text to send a girl. So you could say something like "How's my favourite little brat doing today?".
Step 2: Build comfort
Building comfort and rapport makes her trust you, this is an important part of the interaction because it means she will be willing to meet and potentially have sex with you. You could say something like "Something about u seems to always make me smile".
Step 3: Build sexual tension
After some back and forth banter, you'll want to start building sexual tension so she begins thinking about having sex with you. So you could say "I don't know who you're boyfriend is…but he's not spanking you enough!".
Step 4: Arrange a meetup, but in a casual way
When the tension is built and you're exchanging naughty text messages, you want to arrange a meetup so you can get her back to yours. To do this just say "Right then, I think it's time you put your money where your naughty mouth is. Let's meet this Friday, 7:30pm outside Starbucks in Oxford Street".
Final thoughts on what to text a girl
That's it! Now you don't need to ponder about things to text girls because you have my formula. 4 steps and she'll be willing to meet you wherever you are and will be eager to get back to yours.
IMPORTANT: If you're serious about becoming a master at texting girls, then you should watch this short video… it will blow you away.
Do you have any tips on how to text girls? Let us know in the comments below…